This has been in the works for a while, but it's finally running.
Vehicle:
1989 SJ50 Suzuki Sierra
ECU:
MegaSquirt v2.2, with flyback board running MSnSE 029q
Engine:
Suzuki G13
Running fuel only at the moment.
On the inlet side I am using a manifold from a 1.6 8v Vitara (Sidekick) which is a bolt on for the G13 head. Interestingly the ports on the Vitara manifold seem to be a lot closer in size than the stock manifold. The stock Fidle solenoid is also utilised.
Fuel is provided by an in-tank pump donated by an RX7. Stock fuel pump has been removed and replaced with a blocking plate.
Exhaust manifold is stock Sierra, and has a heated o2 sensor, donated from some import Nissan, screwed into it. The stock manifold has no port tapped for an o2 sensor, but the casting has a 'nub' for this purpose, and was drilled and tapped to suit.
I have it wired using the B&G relay board. Home made cable between the MS and relay board, with the ECU mounted on the firewall under the dash.
For setup i cheated

and used the MSQ that Mad Max posted up
here
. It started and drove quite OK with these settings, and I have not played with them much yet. So far I have found that my TPS calibration didn't stick, but since sorting that it runs quite nicely. It needs a little work on accel enrichment off idle (bogs down when you flatten it) but other than that is OK.
IAT sensor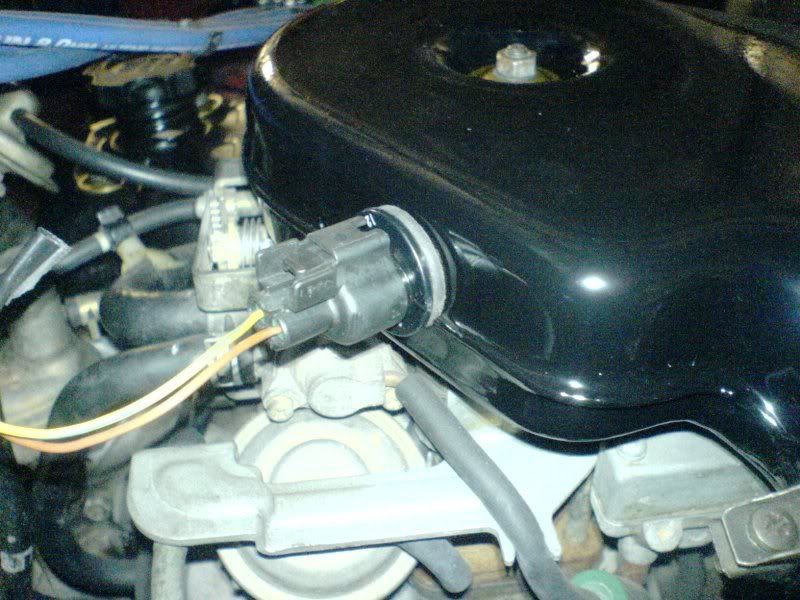 Exhaust manifold