COLIN SMITH
1988 VW GOLF GTI
1.8 liter 8v four pot, DIY gas flowed head, exhaust manifold, throttle body and intercooler, g60 pistons and rods,
port injection, t3 turbo
Mail
smiffie2002@yahoo.co.uk
if you want pics or have any questions

Using v3 board and MSnSe 024s13c code.
Car fired up, rich but running, need to get out the shed before the o2 runs out !
I cut a connector from an old ecu and made a bridging loom from ms to the car loom, this means that there is NO ALTERATION to the engine bay loom, simply remove standard ecu and fit homemade interface cable, tps will be a slide pot linked to the throttle linkage, o2 sensor bung welded into downpipe.
at Kames driven by Kevin Conlan, car is very quiet which made it look slow on the track,
times were respectable, car has full interior and was on road tyres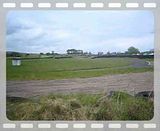 Other cars:
my friends 3dr sierra/merkur 24v cosworth
viewtopic.php?f=85&t=22674
my friends mk1 golf/rabbit 20v turbo
viewtopic.php?f=88&t=22952&p=144268#p144268